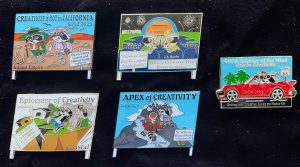 ***These pins are ONLY available to teams
in SoCal for now.***
We will be doing regional pin trading at our state tournament! Information will be provided to coaches at the state tournament webinar on March 15th. Our online store will be open after that meeting and teams can place their orders.
Coaches will be provided a mandatory coupon code needed to place orders.
Order online using the state store located in the upper right hand corner of our website.  Follow prompts to complete order.  Be sure to include Team Name, Team Number, Problem, Division. You will also need the coupon code found on the pin flier to complete your order.
Any questions regarding pins and to get the required coupon code, please email storemg@socalodyssey.org .